Take the time to savor the beauty of the landscape that surrounds us, feel the purity of the air in your breath, while working all your muscles... There is no doubt that cross-country skiing is an endurance sport in full nature that makes everyone agree! A moment of suspended calm to savor, alone or with others, to refocus, surpass yourself or simply share a moment of complicity while listening to nature express itself.
Whatever their age, level or expectations, everyone can indulge in this practice and feel its benefits: well-being, health, healing and contemplation will be there! Lose yourself in the many cross-country ski sites of the 3 Valleys to vary the pleasures and the panoramas.
Nordic skiing or cross-country skiing is ideal for spending a friendly and fun time in a group, while enjoying the huge playground that Les 3 Vallées offers in terms of slopes and landscapes. A fun activity to do with the family during your stay to vary the pleasures of skiing, or even alone at the end of the day to spend yourself differently and take the time to contemplate the sunset.
For experienced skiers, take advantage of the long hilly distances in the forest in the Courchevel Valley, or go in search of the Saint-Martin-de-Belleville lake. But beware, the area is also ideal for beginners with many hiking trails such as around Lake Tueda in the Méribel Valley which offers a grandiose setting or the Plan de l'Eau which allows you to combine healing and contemplation on the Belleville Valley.
---
Prezzi
---
Videos
---
Informazioni aggiornate sulle piste di fondo
Website

E-Mail

Telefono

+33 (0)4 79 08 00 29
Piste per sci di fondo Prospetto
9
pista per sci di fondo classico
66 km
9
Piste per skating
66 km
4
Piste montane
37.3 km
Courchevel 1850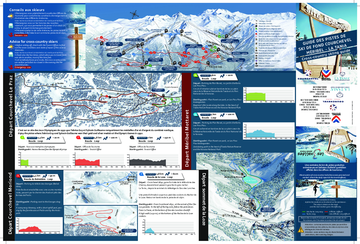 Altro
Noleggio
https://www.les3vallees.com/fr/activites/ski-de-fond
Sci da fondo Servizio
https://www.les3vallees.com/fr/activites/ski-de-fond

Contatto Ufficio del turismo
Courchevel Tourisme
Indirizzo

9 rue de l'Eglise, FR-73120 Courchevel

Telefono

+33 (0)4 79 08 00 29

E-Mail

Homepage
Le più famose stazioni sciistiche di fondo